AWS to Azure - Subscription dropdown is empty
When creating an azure policy in CPM(AWS Based), the dropdown to select the subscription might show nothing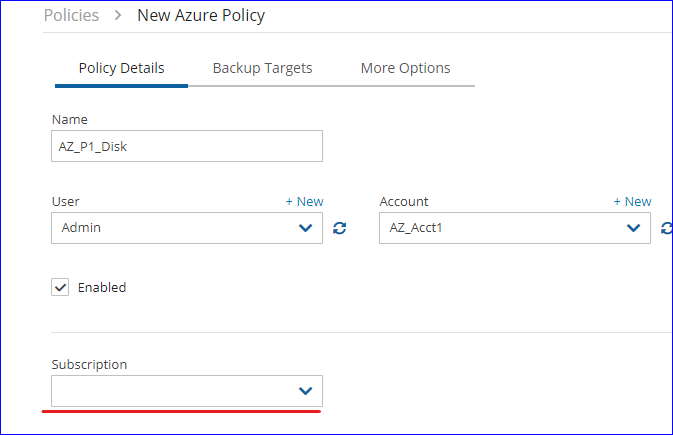 The issue is related to permissions, either the role doesnt have the correct permissions or it was not linked to the app registration.

Please check this two parts in the below KB Article

Part 2 Create a Custom Role and Add Permissions

Part 3 Link the custom role with the app
Related Articles

How to setup CPM on AWS to backup Azure virtual machines and disks.

This article will show the configuration steps required to have CPM running on AWS backup and restore Azure virtual machines and disks. Part I Add an App registration in Azure. 1. Open the Azure portal and go to Azure Active Directory, then click on ...

Minimal Azure permissions/roles for N2WS operations

The required minimal IAM permissions json is attached to this KB article. You can find detailed steps in our User guide, Chapter 26: https://n2ws.com/support/documentation Or in the following KB Article: How to setup CPM on AWS to backup Azure ...

Release notes for the latest v4.1.x CPM release

First time Installing? Watch the Install and Configure N2WS Backup & Recovery video tutorial AMI upgrade is available from any version to 4.1.1a KB article: AMI upgrade Patch upgrade: From 4.1.0 to 4.1.1. KB article: patch upgrade Patch File: ...

How to migrate a CPM Server to a different account

Attention: this procedure only applies to non-BYOL editions. BYOL customers should contact sales@n2ws.com and ask to add the new account to their license prior to attempting a migration using the process described below. Important: Before performing ...

How to use AWS IAM Policy Simulator to troubleshoot N2WS Backup permission issues.

Background: Permission issues are one of the most common errors seen by users of N2WS Backup and this article explains how you can use the IAM Policy Simulator to help you narrow down whether permissions are allowed by an IAM User or a Role. This ...